SPRING MIX '06
March 3-April 1, 2006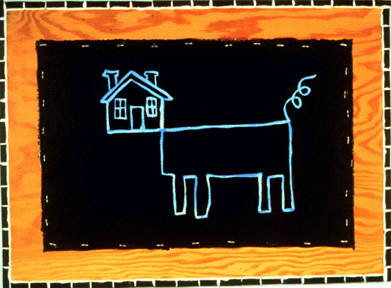 JOHNNIE'S DOG, 1986, oil on canvas, 16 X 24"

This is the story of Johnny's Dog. The storyteller draws as she tells about the dog. Johnny lived in a house that looked like this. It had two windows and a door at the front. It had two chimneys, one on either side. (The storyteller proceeds to draw the house.) Johnny had a dog, but he couldn't find him. So he said: "Maybe my dog is over at Sue's house." Now Sue was Johnny's friend and she lived close by. Johnny had a special path that he followed to get to Sue's. So he started down this way, then turned sharply, and went this way. He fell in a hole, but got up. He fell again. In fact, he fell four times. Then he came to a corner and started right up to Sue's house. When he got there the smoke was coming out of the chimney. (All of this time the storyteller is drawing the route that Johnny followed. At this particular point, she draws the smoke coming out of the chimney.) He called Sue and said: "Sue, have you seen my dog?" "Yes, I have," Sue replied. "He has just gone home." So Johnny went straight home and sure enough there was his dog.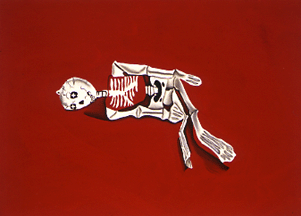 JOLLY ROGER (OVER & OUT), 1984-85, oil on canvas, 22 X 30"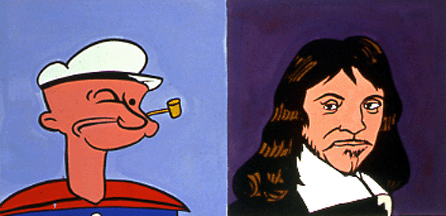 I YAM, I THINK, 1990, gouache on paper, 21" X 34"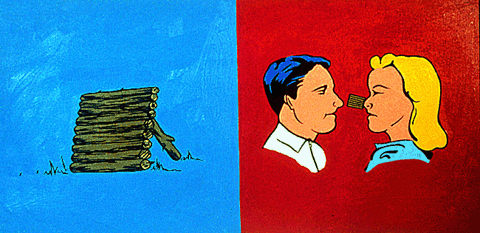 REFLECTOR RACE, 1986, oil on canvas, 24 X 28"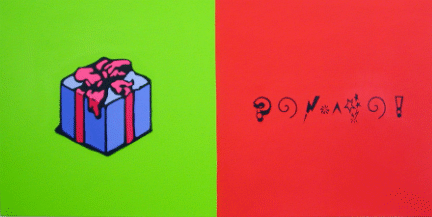 TALENT, 1991, acrylic on canvas, 24 X 48"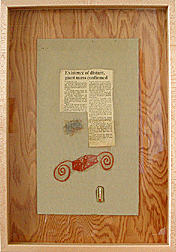 THE GREAT ATTRACTOR, 1993, assemblage, 16 X 23"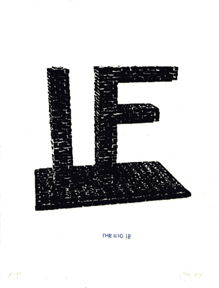 THE BIG IF, 1994, laserprint & rubber stamp, 12 X 15"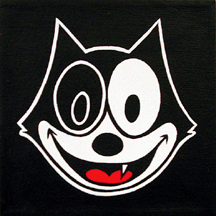 OUR FELIX, 2002, acrylic on canvas, 9 X 9"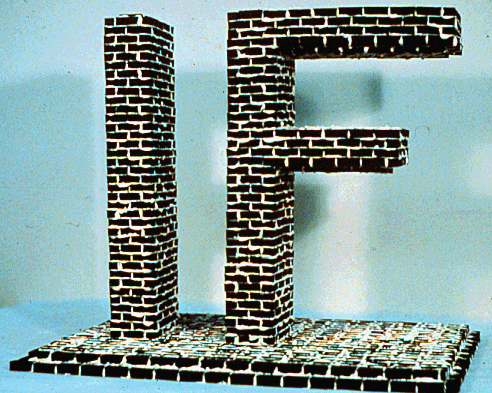 THE BIG IF, 1990, acrylic on wood, 18 X 25 X 20"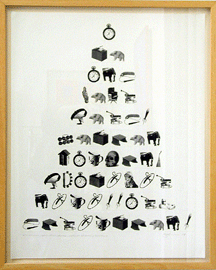 A TO AND FOUR WORDS MOTION LACKING WHATEVER NECESSARY DIRECTIONS, 1993, laserprint collage, 25 X 31"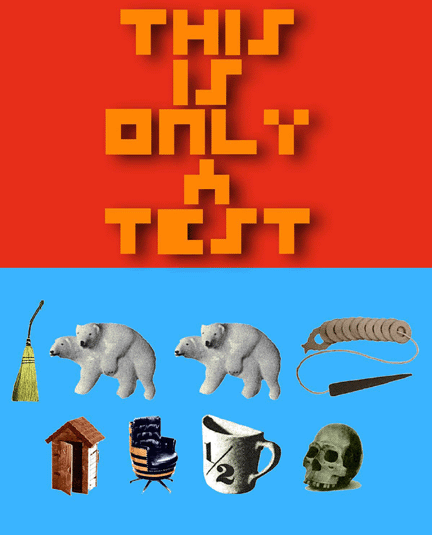 GOOD LUCK, 1994, cactus print, 46 X 57"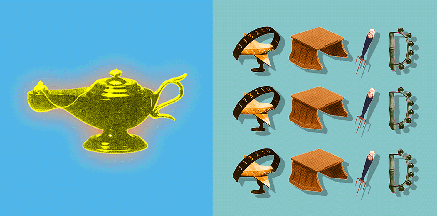 THREE WISHES, 1994, cactus print, 24 X 47"





MAGIC SQUARES FOLIO, 1999, laserprints, 6 X 39"